Blumenthal KG, Harkness T, Phillips EJ, Ramsey A, Banerji A, Samarakoon U, Stone C, Fu X, Khan DA, Otani I, Camargo CA Jr, Zhang Y, Donelan K; USDAR Study Team
Journal of Allergy and Clinical Immunology: In Practice, 2020
Although thousands of Americans are evaluated for a drug allergy every year, there is still very little information about who is getting tested and what their concerns about allergy testing are. In this study, USDAR Principal Investigator, Dr. Blumenthal, led an analysis of USDAR data, using methods of logistic regression to uncover significant associations between demographics and concerns. With this knowledge, allergy providers can better understand their patients' concerns and start to address the roots of those concerns.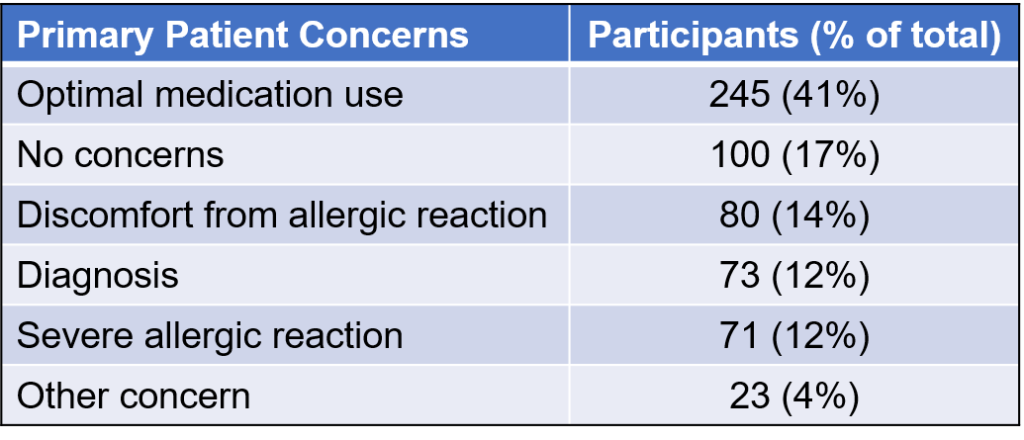 Blumenthal KG, Ramsey A, Samarakoon U, Otani I, Gonzalez-Estrada A, Banerji A, Liu A, Wickner P, Stone C, Park M, Mancini C, Judd A, Ahola C, Fu X, Zhang Y, Donelan K, Mustafa SS, Blue H, Sheflin D, Harkness T, Khan D, Garzon-Siatoya W, Morgenstern-Kaplan D, Marks M, Kerrigan A, Rukasin C, Phillips E
Journal of Allergy and Clinical Immunology: In Practice, 2022
Featured Poster Presentation, 2022 Annual Meeting of the American Academy of Allergy, Asthma, and Immunology
After collecting and analyzing the test results from every USDAR participant who underwent a testing procedure for penicillin allergy, the data showed that the vast majority of penicillin allergies are disproved by testing. The publication of these results was selected for a featured poster presentation to allergists and immunologists from across the United States at the
2022 Annual Meeting
of the
American Academy of Allergy, Asthma, and Immunology (AAAAI)
, the leading national professional organization in allergy and immunology.